A few days ago a trial version of VOCALOID2 voice library Lily has been released. Several VOCALOID producers have already given her voice a try and made songs for her.
VOCALOID Lily is the newest VOCALOID release from Internet Co., Ltd. Her voice is based on the voice of Yuri Masuda, lead singer of the band m.o.v.e.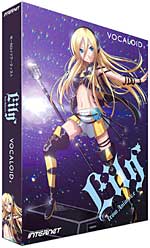 Lily's boxart
This trial version of Lily is confirmed to have the following limits:


Stops working after 30 days

Cannot save projects as .VSQ files

To download this demo version, go to
http://www.ssw.co.jp/products/vocal/lily/contest/index.html
and press the blue button underneath the picture of Lily's product box.
VCC page:
http://vocaloid-creativity.totalh.com/index.php/vocaloid-news/7-vocaloid-lily-30-day-trial